Welcome to the Northwood Orchestra!!
Our December 4th Winter Concert was a big success!!
Performing for the Nursing Homes 2018
Dear Parents of 7th & 8th Grade Strings Students,
December is almost upon us and I think it is a great thing for our students to give back to the people in our community. In past years I have taken string students to nursing homes to perform for the residents and I would like to do it again this year. I will be having morning rehearsals for the next 4 weeks from 7:30-8:15am and after school rehearsals from 3:15-4:30pm. Students that would like to go on these field trips need to come to at least three mornings a week and all after school practices each week.
We will begin our first fundraiser of the year to pay for our district school buses to take us to each nursing home and purchase new concert music. This fundraiser will begin on Monday, November 26th and continue until Friday, December 7th. If you would prefer to make a donation, please make checks to "Northwood Middle School" and I will have them deposited in the strings account.
Most of the nursing homes in our area do not have enough room for a large strings group, so attendance is really important for the rehearsals. We will be playing for an hour for each place, so we will be learning a lot of pieces that will take extra practice. The days of the field trips will be the last week of December 17-21st. We will perform for 2 nursing homes each day for a total of 2 days and have lunch at a fast food place while we are out. Students will need to bring money to purchase their meals.
The Morning Practices are: November 28-30, December 3-7, 10-14, and 17-18.
The After School Practices are: November 30, December 6-7, and December 11-13, 14.
I will be visiting the local nursing homes in the next few days to look at performance space and schedules. I would love to have some parents come along and perhaps help carry some music stands and take pictures/video. Each parent helper will need to complete the volunteer information in the Northwood MS front office as soon as possible. The paperwork has to clear the district office before you will be approved to volunteer.
As I have more information on when we will leave and when we will be at each nursing home, I will send that information home. I look forward to these fun trips and know that they will be very rewarding for the students!
Please let me know if you have any questions or concerns.
Our fall concert was a success!!
Our Fall Concert was October 25th at 6pm in the Northwood Cafetorium and it featured the 7th & 8th grade orchestras. Video footage will be posted here shortly. Click Here to see the Video.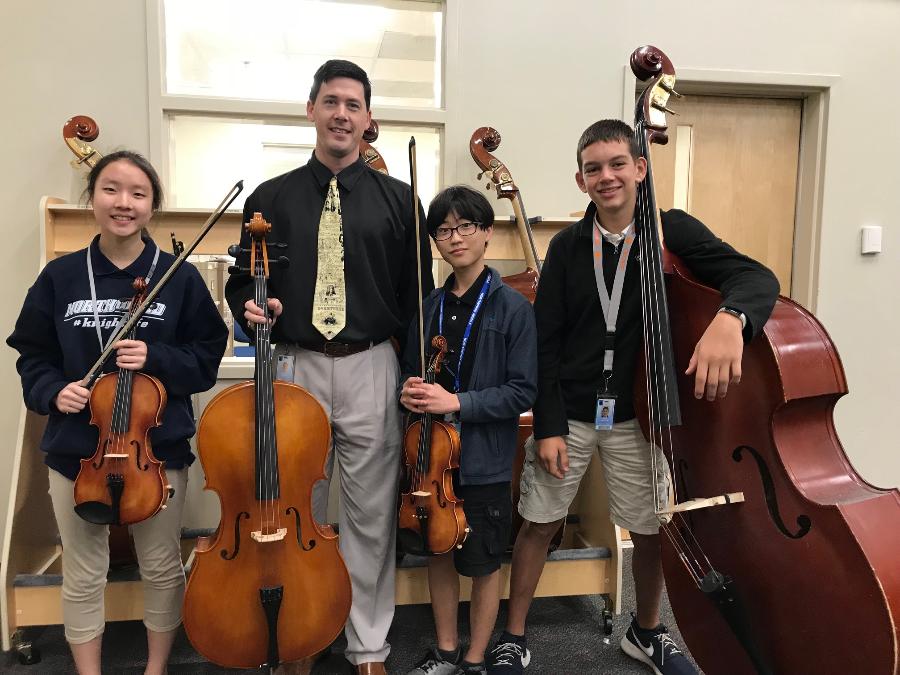 Congratulations to our Region Orchestra Students!!
This past weekend we had students audition for the Region Orchestra and I'm proud to say that we have two students that were chosen! They are:
Emily Yoon - cello
Gage Mealor - double bass
The concert will be held at Furman University at McAlister Auditorium on November 10th at 5pm. It is free and open to the public.
6th Grade Strings have a playing test on Wed., 9-21
Students have a playing test on #33 from the Essential Elements book 1. Students can play the song in class or record it using flipgrid.com by clicking this link.
6th Grade Strings Rental and information meeting Tuesday, August 21 at 6:30pm in the northwood cafetorium!!
We will have one of our local strings specialty vendors, Bernhardt House of Violins, come to measure each student for the instrument they will play in strings. Bernhardt will also carry the music books you will need for all grades (6th, 7th, & 8th). I will share information about the year and what to expect.
Congratulations to our All-County Orchestra Students!!
Last week the auditions were held for All-County Orchestra and we had two students that were chosen to perform in the All-County Orchestra. They are:
Eo-Jin Shin - Violin
Emily Yoon - Viola
The concert is on January 24th, 2019 at Wade Hampton High School.
8th Grade Strings Have a playing test on Thursday, 10-3
Students have a playing test from their piece of music, Midnight Howl.
Students can play it in class or record it using this link on their chromebooks.
7th grade strings have a playing test on Friday, 10-3
Students have a playing test from their new piece of music, Adventure On the High Seas.
Students can play it in class or record it using this link on their chromebooks.
Make sure students get their Syllabus signed and turn it in
8th Grade orchestra students have a playing test on #12 C Major Review on Thursday and friday.
2018-2019 Orchestra calendar
All Concert/Rehearsal Events are in the Cafetorium
October 6 - Region Auditions at League Academy
October 15 - Region Pre-Registration Deadline
October 24 - After school rehearsal 3:30-4:30pm (Only 7th & 8th grade)
October 25 - Fall Concert 6pm (Only 7th & 8th grade)
December 1 - All-State Audition Registration Deadline
December 3 - After school rehearsal 3:30-5pm (6th, 7th, & 8th grade)
December 4 - Winter Concert 6pm (6th, 7th, & 8th grade)
December TBA - Nursing Home Tours (We perform for the local nursing homes)
January/February TBA - Perform for our local elementary schools (Small group of 7th & 8th grade)
January 12 - All-State Orchestra Auditions at Lexington HS
January 13 - Greenville County Youth Orchestra Prelude Auditions at Fine Arts Center
January 15 - CPA Registration Deadline
January 17 - GCYO Winter Concert at Bob Jones University
January 24 - All-County Orchestra Event at Wade Hampton HS
February 1 - All-State Orchestra Pre-Registration Due
February 2 - Violin & Viola Choir at Converse College
February 22-24 - All-State Orchestra Event at Irmo/Lexington HS
March 1 Solo & Ensemble Registration Deadline (6th, 7th, & 8th grade)
March 20-21 - Junior Concert Performance Assessment
May 2 - GCYO Spring Concert
May 3-4 - Solo & Ensemble Festival (6th, 7th, & 8th grade)
May 29 - After school rehearsal 3:30-5pm (6th, 7th, & 8th grade)
May 30 - Spring Concert (6th, 7th, & 8th grade)
June 1 - Auditions for GCYO Intermezzo & Sinfonia