Teacher's Academic Daily Schedule:
1st Period 8:25-8:55 Planning
2nd Period 9:00-9:47 8th Grade Guitar Class
3rd Period 9:51-10:38 8th Grade Orchestra
Planning/Lunch 10:41-11:33
4th Period 11:36-12:23 7th Grade Orchestra
5th Period 12:27-1:14 7th Grade Orchestra
Planning 1:17-1:34
6th Period 1:37-2:24 6th Grade Orchestra
7th Period 2:28-3:15 6th Grade Orchestra
Congratulations to the 8th grade orchestra on receiving an excellent rating at concert performance assessment!!
I'm proud to say that the 8th grade orchestra received an Excellent rating at Concert Performance Assessment yesterday at Riverside High School playing Grade III music! This level of music is the same that most 9th grade orchestras play, so it is quite an accomplishment! Here is a link to video of one of the pieces we played called, "Night Shift" by Richard Meyer.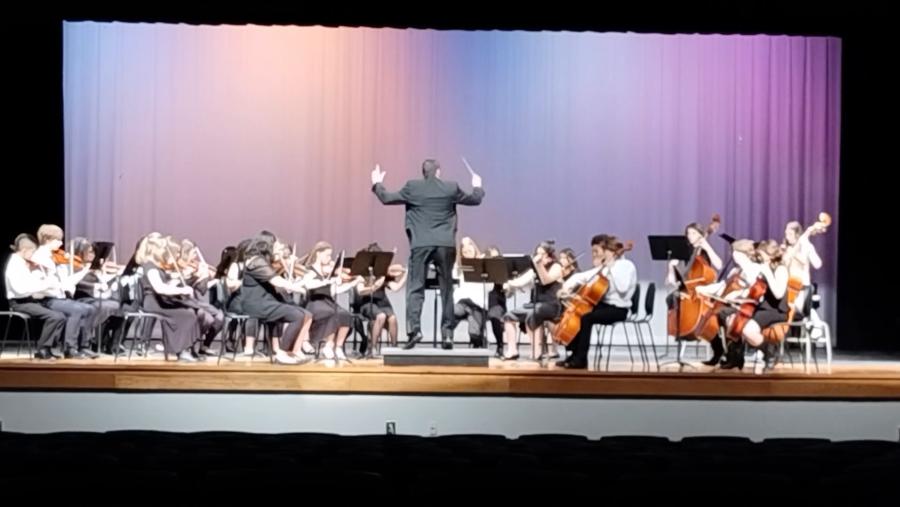 8th grade orchestra performs for Concert performance assessment on Thursday at Riverside High School!!
Trip Itinerary for the trip:
9:15am Leave Northwood Middle School. 9:30am Arrive at Riverside High School - 794 Hammett Bridge Rd, Greer, SC 29650. 10am Warm-Up time. 10:20am Concert on Stage. 10:40am Sight-Reading. 11:00am Pack-up and head outside to the bus. 11:20am Depart for Chick-Fil-A on Wade Hampton Blvd. 11:40pm Arrive at Chick-Fil-A and eat lunch. 2pm Arrive at Northwood Middle School.
What do the students wear?

The concert attire for men is a white dress shirt, black or dark tie, and black dress pants, black socks, and black dress shoes. For ladies the concert attire is black dress pants or a skirt (with black leggings) and a white dress top. Ladies may also wear all black instead. No tennis shoes, jeans, or athletic clothing. The judges will take points off of the entire group if we do not match, so it is very important.
Carowinds Trip for the 6th, 7th, & 8th Grade students on May 20th!!!
The first payment for this trip is due this Friday, March 29th!! Here is a link to the parent letter and how to make your first payment. We have about 13 spots left and it is the first that make the payment.
8th grade orchestra performed for curriculum night!!
Great job by the 8th grade orchestra who played for the opening of curriculum night on February 16th, 2023.
The Winter Concert is Tuesday, December 13th was a big success!!
Fundraiser pick up this Wednesday after school!!
Our Products will be delivered on: Wednesday, November 16, 2022
Pick up Place: Orchestra Room
Students can pick up their fundraiser items after school! All of their items will be packaged together in large plastic bags. (If your child is a bus rider and was also a big seller, you may want to consider getting their bags home another way.) You will receive a copy of your original order form. Please check your bags carefully to make sure that you have everything. If anything is incorrect or missing, please let me know by this FRIDAY (11/18/22) so that we can make the corrections ASAP!!! Thanks for making this fundraiser a success!
Fall Concert is a big success!!
We had a great concert with so many different costumes! Our judges, Mrs. Haltiwanger, Ms. Jordan, Ms. Vitanovec, and Ms. Parks gave out prizes for the best costumes. It was great fun!! Click Here to see video of the concert.
Fall Orchestra Concert
Tuesday, October 25th at 6:30pm
In the cafetorium
We will have morning rehearsals and an after school rehearsal to prepare for the concert:
Tuesday, October 18 - Morning 7:30am-8:50am
Thursday, October 20 - Morning 7:30am-8:50am
Thursday, October 20 - After School Dress Rehearsal in the Cafeteria 3:30pm-5pm
Concert Tuesday, October 25th at 6:30pm
Our Fall orchestra concert is on Tuesday, October 25th at 6:30pm in the Cafetorium at Northwood Middle School. Students need to arrive by 6pm so we can tune and get setup.
The concert dress is: Marvel character costumes or any other school appropriate Halloween costume. We will have a costume contest for multiple categories and prizes for the top costumes. Please let me know if you have questions or concerns. Looking forward to it!
Orchestra Fundraiser
All money and fundraiser forms need to be turned in on Wednesday, October 26th in the morning between 7:30-8:25am so I can receipt the money and turn it in. Students still have until Wednesday to keep selling. All proceeds go to the orchestra program to pay for concert music, future bus costs for trips, and music accessories. We will be also taking any donations for students that would prefer to do that instead of the fundraiser. Thanks!
Congratulations to our Region Orchestra Students!!
Andrew Liles - Violin
Anna Henry - Violin
Adelaide Joner - Violin
Peyton Gramling - Viola
The concert will be on Saturday, November 19 at Wade Hampton High School.
6th Grade students renting instruments
Please look at renting your instruments at a local string store in our area. Here are a few that are close by and are very good:
If you are planning on buying an instrument instead of renting one, please send me the link for the instrument if it is online so that I can check the quality of the instrument. Here is my email address pmurch@greenville.k12.sc.us
Here is the school rental instrument form for students that are in 6th, 7th, or 8th grade and are using a cello or bass. The one time fee is not $50, it is $40. It is a first come first serve basis, as we do not have enough school instrument for everyone to rent from the school. It is best to start look at the local music stores to look at renting an instrument. If you are going to rent a school instrument, you could rent using the "My School Bucks" link here or send cash or check. Checks should be made to Northwood Middle School.
Everyone that plays violin or viola still needs a shoulder rest for the size instrument that you have as well as the book "Essential Elements" book 1 by Gillespie, Hayes, Allen.
Good shoulder rests brands are: Everest, Kun, and FOM and there are others. The book and the shoulder rest can be bought at any music store or online like amazon.com, etc.
School Guitar Rental for and link for payment
If you would like to use a school guitar, you need to complete this instrument rental form and have your student bring it to me. You can make the one time payment of $20 for the semester though "My School Buck" link here.
7th Grade supplies needed
Instrument and bow
Essential Elements for Strings by book 2
8th Grade supplies needed
Instrument and bow
Essential Technique for Strings by book 3
Essentials for Strings by Gerald Anderson
Here is a link to your weekly lesson plans
2022-2023 Orchestra calendar
Tuesday, August 15 - First Day of School
Monday, August 29 - GCYO (Greenville County Youth Orchestra) Auditions at Wade Hampton High School
Monday, September 5 - Labor Day Holiday
Friday, September 9 - Region Orchestra Audition Form and Money Due
Monday, September 12 - GCYO First Rehearsal at Wade Hampton High School
Friday, September 16 - Workshop StringFEST 2022 at Wade Hampton High School
Saturday, September 17 - Double Bass Workshop Wade Hampton High School
Saturday, October 8 - Region Orchestra Audition at League Academy (Required for all 8th grade Hon & CP)
Friday, October 14 - Region Orchestra Pre-Audition Deadline
Monday, October 17 - Teacher Work Day/ Student Holiday
Tuesday, October 25 - Fall Concert 6:30pm at Northwood Middle School Cafeteria (Required for all 7th & 8th Grade)
Friday, November 4 - All-County Orchestra Auditions Due on Google
Monday, November 7 - Teacher Work Day / Student Holiday
Tuesday, November 8 - Election Day / Student Teacher Holiday
Saturday, November 19 - Region Orchestra Event at Wade Hampton High School
Wednesday, November 23-27 - Thanksgiving Break
Thursday, December 1 - All-State Audition Deadline
Tuesday, December 13 - Winter Orchestra Concert at 6:30pm at Northwood Middle School Cafeteria (Required All Grades)
Friday, December 16 - Half Day
Winter Break December 17-January 3rd
Saturday, January 7 - All-State Orchestra Auditions at Irmo High School
Monday, January 9 - Prelude Auditions for GCYO at 4:30pm at Wade Hampton High School
Friday, January 13 - Teacher Work Day / Student Holiday
Monday, January 16 - MLK Day Holiday
Tuesday, January 17 - GCYO Winter Concert 7pm at Wade Hampton High School
Friday, January 20 - All-County Orchestra Event at Wade Hampton High School
Monday, January 23 - Prelude Orchestra GCYO First Rehearsal at Wade Hampton High School
Friday - Saturday, January 27-28 - Violin & Viola Choir at Furman University
Monday, February 20 - Presidents' Day Holiday
Friday - Sunday, February 24-26 - All-State Orchestra Event at Cane Bay High School in Summerville, SC
Friday, March 16 - Concert Performance Assessment at Riverside High School (8th Grade Orchestra)
Wednesday, March 15 - Deadline for Solo & Ensemble Registration
Friday, March 17 - Teacher Work Day / Student Holiday
March 18-26 - Spring Break
Friday, April 7 - Student / Teacher Holiday
Monday, April 10 - Student / Teacher Holiday
Tuesday, May 2 - GCYO Spring Concert 7pm at the Greenville Peace Center
Thursday, May 4 - Spring Concert at 6:30pm at Northwood Middle School Cafeteria (Required All Grades)
Friday, May 5 - Solo & Ensemble Festival after school at Wade Hampton High School
Monday, May 29 - Memorial Day Holiday
Saturday - Sunday, June 3-4 - GCYO Auditions
Monday - Thursday, June 12-15 - String Explosion Camp 9am-3pm each day at Wade Hampton High School