Teacher's Academic Daily Schedule:
1st Period 8:25-8:55 Planning
2nd Period 9:00-9:47 8th Grade Guitar Class
3rd Period 9:51-10:38 8th Grade Orchestra
Planning/Lunch 10:41-11:33
4th Period 11:36-12:23 7th Grade Orchestra
5th Period 12:27-1:14 7th Grade Orchestra
Planning 1:17-1:34
6th Period 1:37-2:24 6th Grade Orchestra
7th Period 2:28-3:15 6th Grade Orchestra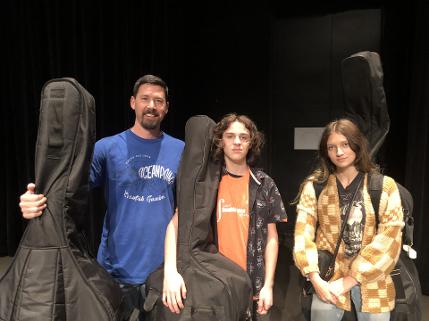 Congratulations to our two eighth grade bass players who spent the day at the Governor's school for the Arts and Humanities practicing and performing!
Congratulations to our two 7th grade and two eighth grade cello players who spent the day at Furman university practicing and performing!
All students 8th Grade Honors and any other students that want to try out need to complete the form below that I gave out in class. Please get this to me asap. The form is linked below:
6th Grade students renting instruments
Please look at renting your instruments at a local string store in our area. Here are a few that are close by and are very good:
If you are planning on buying an instrument instead of renting one, please send me the link for the instrument if it is online so that I can check the quality of the instrument. Here is my email address pmurch@greenville.k12.sc.us
Here is the school rental instrument form for students that are in 6th, 7th, or 8th grade and are using a cello or bass. The one time fee is not $50, it is $40. It is a first come first serve basis, as we do not have enough school instrument for everyone to rent from the school. It is best to start look at the local music stores to look at renting an instrument. If you are going to rent a school instrument, you could rent using the "My School Bucks" link here or send cash or check. Checks should be made to Northwood Middle School.
Everyone that plays violin or viola still needs a shoulder rest for the size instrument that you have as well as the book "Essential Elements" book 1 by Gillespie, Hayes, Allen.
Good shoulder rests brands are: Everest, Kun, and FOM and there are others. The book and the shoulder rest can be bought at any music store or online like amazon.com, etc.
School Guitar Rental for and link for payment
If you would like to use a school guitar, you need to complete this instrument rental form and have your student bring it to me. You can make the one time payment of $20 for the semester though "My School Buck" link here.
7th Grade supplies needed
Instrument and bow
Essential Elements for Strings by book 2 by Michael W. Allen, Pamela Tellejohn Hayes, and Robert Gillespie
8th Grade supplies needed
Instrument and bow
Essential Technique for Strings by book 3 by Michael W. Allen, Pamela Tellejohn Hayes, and Robert Gillespie
Essentials for Strings by Gerald Anderson
Here is a link to your weekly lesson plans
2023-2024 Orchestra calendar
Semester One
Tuesday, August 8 - First Day of School
Monday, September 11 - Region Orchestra Audition Registration and Money Due (Required for Honors Students)
Saturday, September 16 - Cello Choir at Furman University (Required for Honors Cellists)
Saturday, September 23 - Double Bass Workshop at Governor's School (Required for Honors Bassists)
Saturday, October 7 - Region Orchestra Auditions at League Academy (Required for all Honors Students)
Thursday, October 19 - 7th & 8th Grade Orchestras Combined Rehearsal 3:30-4:45pm (Required for 7th & 8th Grade)
Thursday, October 26 - Fall Concert at 6pm (Required for 7th & 8th Grade)
Friday-Saturday, November 3-4 - Region Orchestra Weekend at Anderson University (Required for Honors Students who are chosen from the audition)
Monday, November 6 - All-County Orchestra Videos Due (Required for all Honors Students)
Thursday, December 7 - 7th & 8th Grade Orchestras Combined Rehearsal 3:30-4:45pm
Monday, December 11 - All-State Orchestra Audition Registration (Required if you participated in Region Orchestra)
Tuesday, December 12 - 6th Grade Orchestras Combined Rehearsal 3:30-4:45pm
Winter Concert - December 14th at 6pm (Required for All Students)
Semester Two
Saturday, January 6 - All-State Orchestra Auditions at Irmo High School
Friday, January 26 - All-County Orchestra Event at Riverside High School (Required for all Honors Students who auditioned and were chosen)
Saturday, January 27 - Violin/Viola Choir at North Greenville University (Required for all Honors Violinists and Violists)
Thursday, February 15 - Concert Performance Assessment Rehearsal 7th & 8th Grade 3:30-4:45pm
Thursday, February 22 - CPA Rehearsal 7th & 8th Grade 3:30-4:45pm
Friday-Sunday, February 23-25 - All-State Orchestra Event (Required for Honors Students who are chosen after auditions)
Tuesday, February 27 - CPA Rehearsal 7th & 8th Grade 3:30-4:45pm
Thursday, February 29 - CPA Rehearsal 7th & 8th Grade 3:30-4:45pm
Tuesday, March 5 - CPA Rehearsal 7th & 8th Grade 3:30-4:45pm
Thursday, March 7 - Concert Performance Assessment (Required for 7th & 8th Grade)
Monday, March 11 - Registration for Solo & Ensemble Due (Form and $5)(Required for all Honors Students and open for all grades)
March 18-22 - Spring Break
Friday, April 26 - Solo & Ensemble at Riverside High School (Required for all Honors Students and open for all grades)
Tuesday, May 7 - 7th & 8th Grade Orchestras Combined Rehearsal 3:30-4:45pm
Thursday, May 9 - 6th Grade Orchestras Combined Rehearsal 3:30-4:45pm
Spring Concert - May 16th at 6pm (Required for All Students)